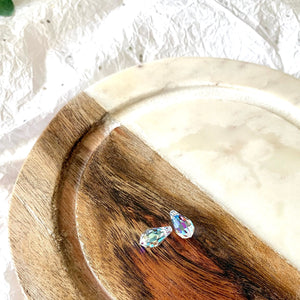 Swarovski Crystals - Small Teardrops
Drop, Swarovski® crystals, Crystal Passions®, crystal shimmer, 13x6.5mm faceted teardrop pendant. Sold in packs of 2.
As cool and crisp as ice chips or the stars' glow on a chilly winter evening, Swarovski's crystal clear provides a fresh perspective on an often-overlooked color. Its ability to blend in with bold color palettes and stand out amongst softer hues embodies limitless design opportunities.

Inspired by the classic AB effect, Swarovski® has innovated the shimmer effect to be able to radiate three shades of color for more dazzling light refraction and movement. This soft, glamorous effect speaks to our increasing desire for heightened sensory experiences by merging futuristic shimmer with bold crystal colors in boundary-breaking hues.

Swarovski®'s crystal teardrop offers design versatility and classic elegance. Large beveled hole prevents fraying and can be strung through medium-sized cord or chain.

Hole size and placement may vary slightly.
---
We Also Recommend