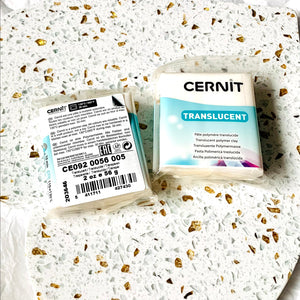 Cernit Clay - Translucent
These are sold in bars of 250g or 56g each.
---
We Also Recommend
Here fast and in good condition!
Received all my items from here in a timely manner and in good condition. Will be using them soon but waiting some other items to start my project soon.
Cernit
Very sticky but love how my earrings turned out. I'm in the learning process with cernit 😂.
Rare find in the US!
Cernit isn't as easy to find in the US and Goyna Studio is a great and easy place to find it! I highly recommend, because Cernit is a very good brand and I'm grateful to have found a good place to purchase it.